Indian Railways, Systems Thinking
Project Overview


Classroom Project
Duration : 2 Weeks . 2018

Systems Thinking // Actor Mapping // Opportunity mapping

The Scope of the project was to Study the Railway Station in Guntur, apply system thinking methodologies to evaluate the premise and map opportunities of Intervention.



The Methodology

I summarized a few key concepts which are of high relevance to design, pertaining to systems thinking in a cheat sheet.
Area of Study

The area of study for this project was the Guntur Jn. Railway Station.
It comes under the

South Central Railway zone of Indian Railways

. It is the 295th busiest railway station in India.
Identification of a sub-system


The Railway station itself being a super-system with vast system boundaries, sub-systems were Identified to work on.
They were as follows;

After a comprehensive Brainstorming session, Key nodes pertaining to the above mentioned sub - systems were Identified and Plotted.

Once the nodes were classified into affinity clusters and plotted, direct and indirect connections were made between the nodes to gain insights.

Actors Mapping


On the base layer of the sub-system map, actors mapping is intended to identify people of the system and their influence on the system.


First, the users groups were identified and classified into persona spectrum, a methodology native to Inclusive Design.

Then a Journey Map was plotted and identified users' journey through the premise was evaluated and mapped.

Once each actor and their pain points, influences on behavior and decision points were identified and mapped, another layer of data was added in terms of, "what happens when an actor is absent or goes rogue in the system?" such Implications on the system too were accordingly mapped.

Once all the nodes were plotted, direct and indirect connections were made between the nodes to gain insights and opportunities.
Opportunity Mapping


The Insights from the above maps were translated into areas of opportunities which were further refined into design briefs.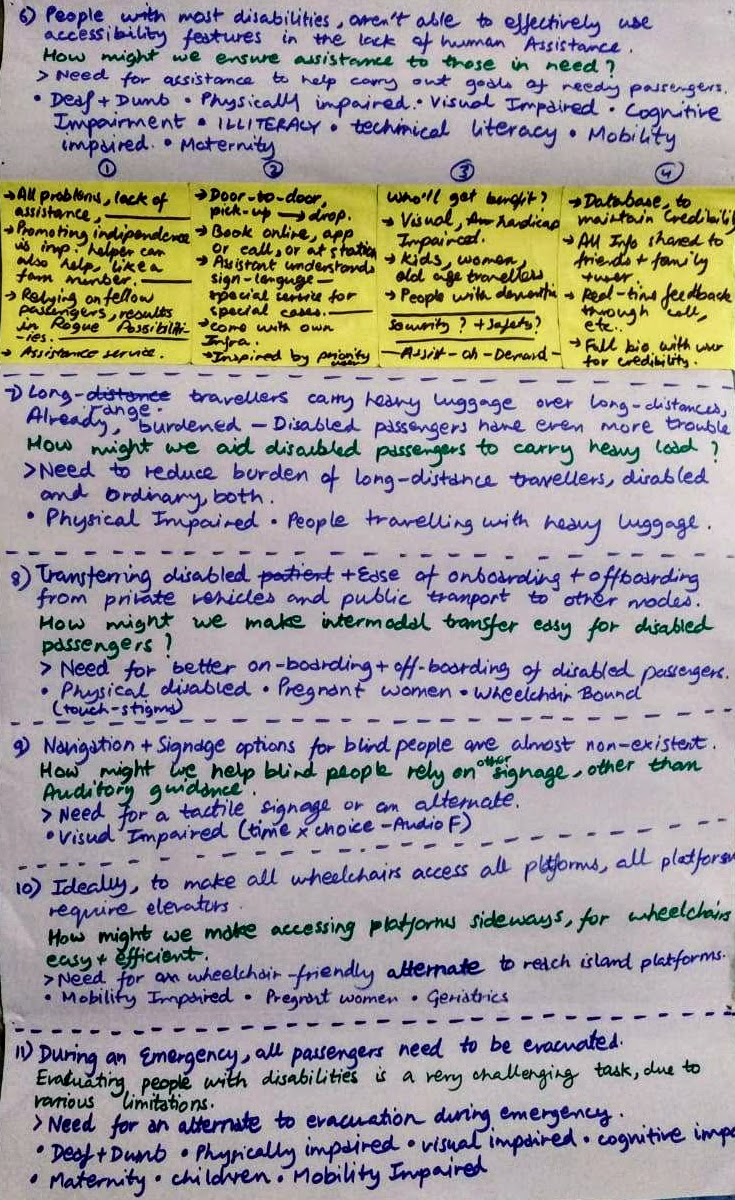 A few examples of the briefs from the exercise are as follows


How might we make public spaces around the station parameter accessible too for people with disabilities so that they can reach the station independently?

How might we make station circulation in and around the station parameter more efficient for commuters for better crowd management ?

How might we aid people with disability to avail public services of the station, by themselves without relying on aid from fellow passengers?